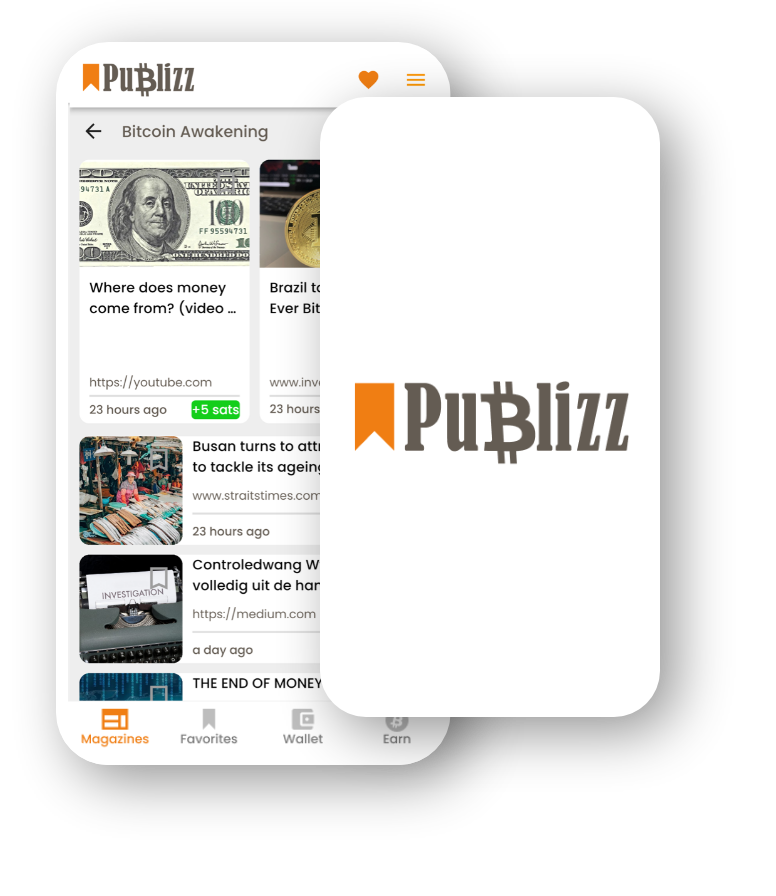 Learn about the publizz app
Publizz is the next generation media platform where you can find compelling magazines on a variety of topics. Each magazine consists of fresh and interesting content, and some of that content is sponsored. This means that you can earn real Bitcoin when reading such an article.
Learn about the publizz app
Install the Publizz app via the Apple store of the Google play store, create an account, just your name and e-mail address is required, select a magazine and start reading. If the article is sponsored, and you read it, you will receive a reward in the form of Sats.
Sats are for Bitcoin what cents are for the Euro.
Once you have collected a minimum of 500 Sats you will be able to redeem then to any Bitcoin Lightning enabled wallet, like Breez Wallet or MUUN wallet.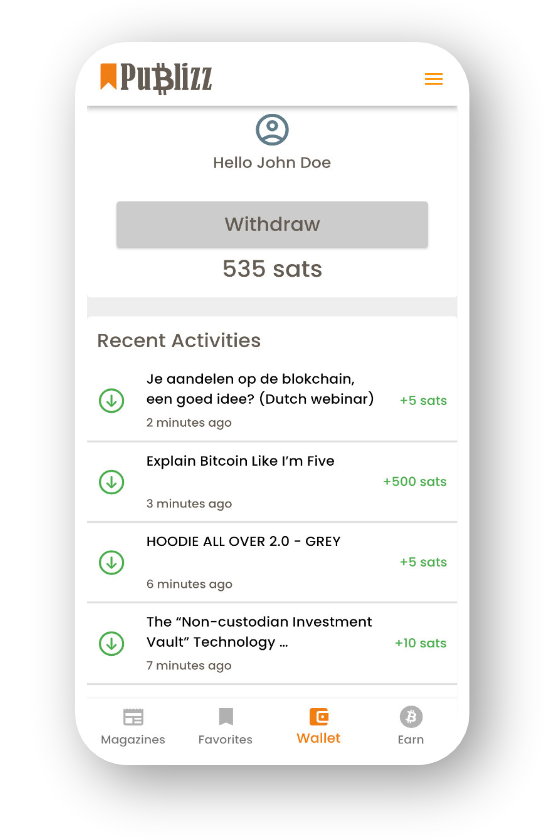 Learn about the publizz app
Publizz allows publishers to create digital magazines on any topic imaginable. Publizz has an advance crawling mechanism that collects appr. 200.000 publication a day in more than 15 languages from more than 50 countries. All these articles are categorized automatically via the Publizz proprietary Artificial Intelligence system called OpenDover.
This allows publishers to find compelling content for their magazines beyond simple keyword search. Publizz comes with an advanced "Read to Earn" mechanism. This mechanism allows micropayments for readers when they read a sponsored publication.
Utilizing all the advanced possibilities of the Bitcoin Lightning Network, Publizz allows payouts to anyone in the world seamlessly as Bitcoin is by nature, a worldwide phenomenon.
Publizz gives publishers a full set of analyzing tools to monitor the performance of a magazine, and create personas of the readers based on what content they consume. All based on the following assumption: "tell me what you read, and I tell you what you need".
Learn about the publizz app
Publizz has an advanced "reward module" allowing publishers to inject reward containing content in their magazines.
Publizz allows to revenue-share the proceedings of every click on such reward containing content by paying a small amount of the revenue in Bitcoin to the reader of that specific piece of content.
This novel approach allows for a great retention and dwelling time of readers, who are more than willing to scroll through a magazine, as they get rewarded when reading articles.